Palm Springs; A timeless Mid-Century style you should consider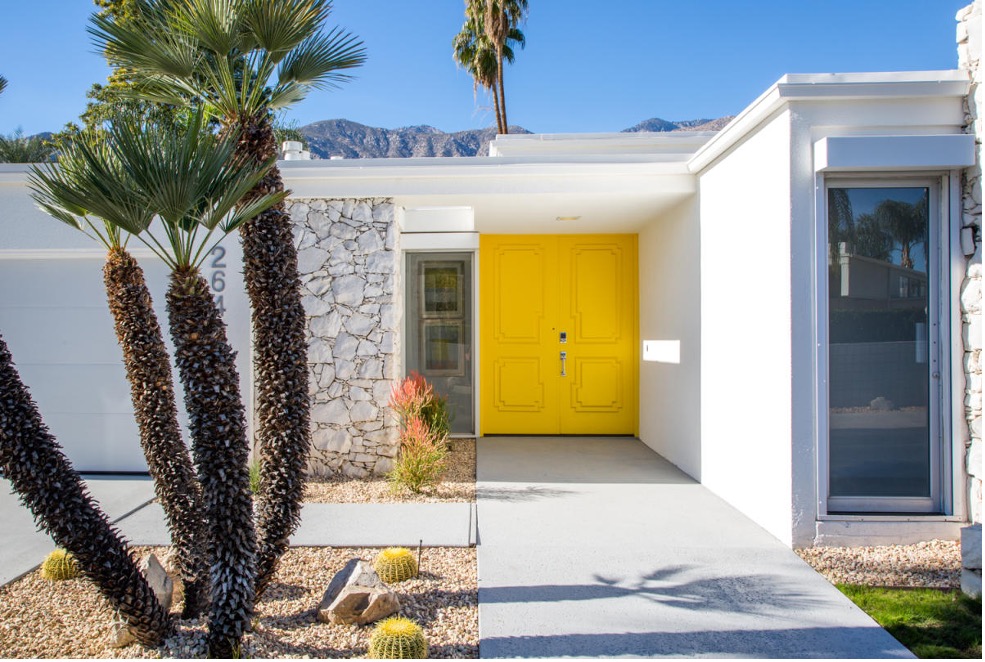 Why you should consider the Palm Springs look for your new home
This article aims to assist you in understanding a little more about the importance of incorporating a timeless look into your home. The Palm Springs design trend is ideal for creating the ultimate space to rest and relax.
For anyone who enjoys a bit of Mid-century Modernism, Palm Springs is the look for you. In the 1950s, Palm Springs was a highly popular destination amongst Hollywood celebrities, leading to many building beautiful holiday homes designed to take advantage of the year-long scorching climate.
Now, what better way to take advantage of Australia's favoured indoor and outdoor living than by going with the Palm Springs look. Through the use of breeze blocks to provide us with ventilation, a beautiful overhanging roof awning and raked ceilings providing for shade, stoned based cactus gardens fitted to the dry, hot surroundings and floor to ceiling length windows to take advantage of the natural light.
This look shows how it is the perfect fit for the Australian climate. What exactly is the Palm Springs look? Well, this look integrates effortless chic with a mid-century design, ultimately balancing contemporary coastal living with a subtle glam. What better way to bring the 'wow' factor to your home than by targeting the distinctive features including clean lines, minimalistic design aesthetic, cactus gardens and a bold, brightly coloured door also being gladly being embraced.
By following a fairly neutral colour palette whilst also incorporating a variety of 'Earthy' and raw textures and tones, for instance, a variety of greens, yellows, browns and even faded pinks, this assists you in reaching the Palm Springs look.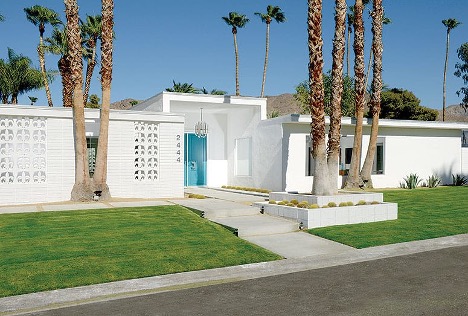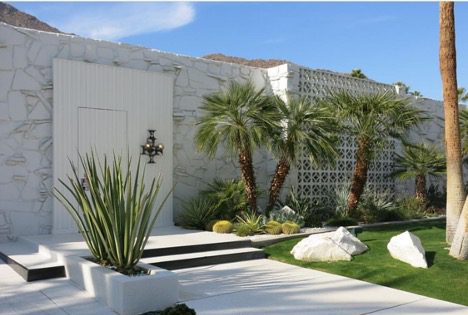 Consider this timeless style for your…
Kitchen
The kitchen is the heart of the home; it is where the family gathers for meals, discussions and speaking from personal experience, even just to hang out. When designing your kitchen, it is important to consider safety factors, like is there enough space on the floor plan for the kids to run around? Are the hot plates in an area that they could reach? The kitchen is the perfect place to incorporate this look into your house. Now let's be real, a plain white kitchen? Boring. Why not incorporate a variety of Earthy tones into your kitchen to brighten up the entire room!
Laminex has released a new colour collection, "Living Pigments" and we are big fans! From Hushed Pine to Pale Honey, these new colours seek to "ground us" and help us "find a sense of comfort through the warmth of rich colour". Couple these tones with traditional woodgrain finishes, like Rural Oak, to complete the modern spin on Palm Springs interiors.
Bathroom
There is nothing more relaxing than nature, so why not incorporate nature into your bathroom. By adding a variety of plants or Earthy tones will make your bathroom the ultimate chill-out zone.
Vanities in Woodgrain or Rattan finishes offer that natural luxe feel. Check out the Nevada Wall Hung vanity in Rural Oak from Timberline, or the Kado Arc Timber Vanity from Reece Bathrooms.
Terrazzo tiles like the Bosco Confetti White from Colortile are a great way to compliment your tapware and other bathroom fittings. Tapware finishes are another subtle way to make a statement! We are seeing a lot of clients selecting various finishes such as brushed gold or gunmetal grey! Check out ABI interiors and Reece for more inspiration.
Outdoor area
Gardens that aim to achieve this mid-century modernist look often focus on the complex differences. How to 'get the look', whether it be a succulent, cactus, palms, a shapely feature plant such as the 'Joshua Tree' or simply just a rock garden. The Palm Springs landscaping goal is to achieve that low maintenance and minimalistic look. With Australia's hot and dry climate, incorporating rock gardens reduces a need for water usage and these plant choices require a more dry environment, meaning they do not require daily watering.
Check out Florist With Flowers for more garden inspiration.
Remember, adding your own personal and unique touches will make your house a home. Contact us today if you'd like some advice from Hopwood Homes' Coffs Harbour Home builders.