Coffs Coast Sloping Block Specialists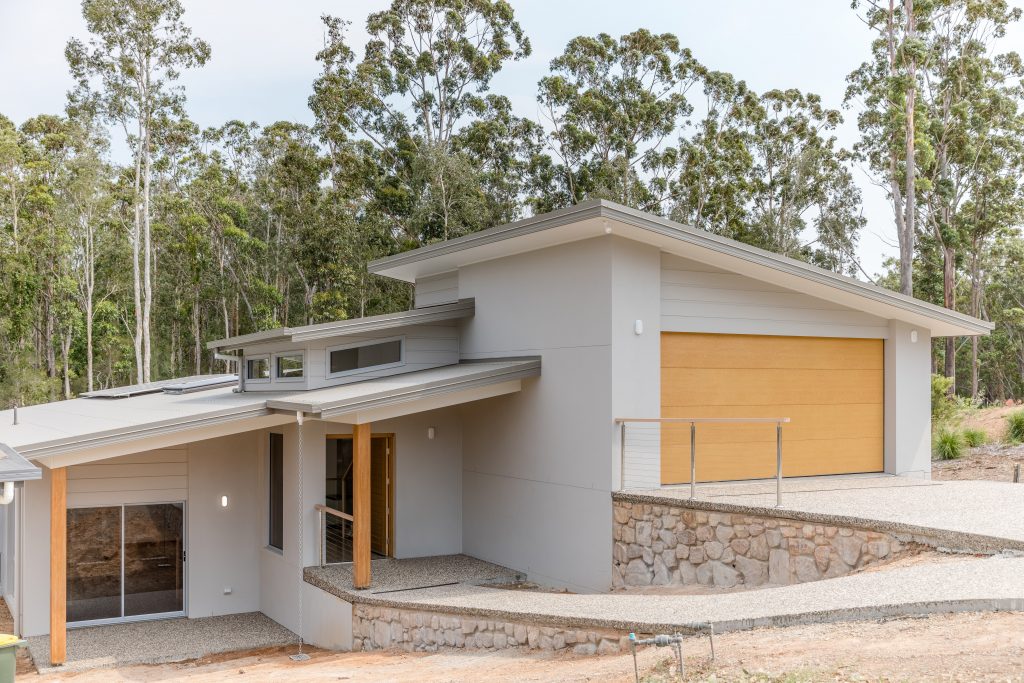 Hoping to build a spacious home that provides privacy, beautiful views and supports your lifestyle? It's likely you may have come across a larger block that could do just this, but perhaps there is one concern it's sloping!
Often the best homes take vantage of great viewpoints, are surrounded by space and are designed to complement the natural surroundings. There are many examples of beautiful homes along the Coffs Coast built on sloping blocks that have just this. We have built many of them.
'Custom home designs to maximise your sites potential'
With over 40 years of experience in building custom homes, we have created homes on a range of sloping blocks from a slight slope to the much steeper inclines. A sloping block should be viewed with the wealth of opportunity it can bring to your home, from multi level living spaces, and alfresco's, to stunning feature staircases and landscaped entries. With over 60% of the homes we build utilising a slope of some kind, we have a wealth of experience in crafting bespoke homes to match your lifestyle and chosen location. We can also help you find a great block, with new opportunities coming up across our region.
Taylors Rise – Bellingen
Taylors Rise in Bellingen or Bello as local's refer to it, offers lots between 600 to 1500 sqm, embracing the beautiful rural countryside surrounding Bellingen township, whilst being in walking distance to everything Bello has on offer. These sloping blocks offer space, views and so much opportunity.
We create custom plans to give you an idea of what can be achieved at Taylors Rise however work closely with our clients to create their dream home. No two Hopwood Homes are the same.
View sample Taylor's Rise House and Land Packages
Gita Place – Woolgoolga
An example of a recently completed customised build is Gita Place in Woolgoolga (affectionately known as Woopi – we love an abbreviation on the Coffs Coast).
Our Gita Place build is positioned on a XXXX sqm steep sloping block. Having found an available block in their chosen location initially our clients saw the sloping nature of the block as a pain point, however through their engagement with us and the unique Hopwood process we were able to design and deliver a home that suited the clients needs that beautifully maximised the potential of the land. Ticking off all of the clients key considerations:
Multi Level home to enable space for multi generational living
Future proofed design that means the home will suit with the families future
Creation of usable outdoor space for alfresco dining and entertainment
Easy living – a home that flows and is easily accessible – no walking up 100's of stairs to the front door
Capturing the magical views of Woopi from within the home and in the garden.
View more example of our home designs for a sloping block
Things to consider when building on a sloped block
'Work with the site. Not against it as that will cost you a lot more'
A purposely designed home to suit a sloping block can afford many opportunities, from higher ceilings and a more architectural design to less reliance on cut and fill and/or need for retaining walls.
Working with the site, rather than trying to carve a flat block from an incline will enable you to spend wisely, putting budget into meaningful design features that complement your lifestyle and enable you to craft your bespoke home.
Building a multi functional home that has multi use spaces, offers work-from-home or short-term-let opportunities, or is built for extended family are popular considerations. As well as how the home will be utilised now and into the future, enabling the home to grow and support a change in lifestyle.
Why choose Hopwood Homes?
Our custom design process will cover all aspects of your build, from current to future home requirements to how you envision using spaces alongside the functionality, ambience and look of your home.
Our longstanding relationships with key suppliers also enables us to ensure we have the top specialists working on your home. From Norm Ray at Kanga Landscaping and Earthworks to Chris Woods, O-Meara Wood and Associates Consulting Engineers. Our client focussed process also enables you to meet the experts that build your home as it progresses, so there is never a missed opportunity.